... Being able to see and comprehend the patterns in this global dynamic is a challenge for all and a key leadership capacity to master. It has implications for everyone, individuals, business and society at large...
In this world of transformation it has been said that we need to take the largest perspective possible; look at the challenges with deep wisdom and with the most robust models we can muster to guide our intentions and actions.
But how do you give yourself, your team, your leaders an opportunity of such breadth, depth, and global magnitude as that?
We Have a Way
We R One World creates an optimum learning environment by way of a live action role play simulation of such breadth, depth and global proportion. It is an exciting and profound educational experience. And it comes with the biggest guarantee ever… you will never look at the world the same way again.
Multiple participants ( between 70 – 120) engage with each other in a highly interactive simulation on a massive map of the world in an arena the size of a basketball court. This immersive, creative and unique learning environment provides participants with the opportunity to run the world for a day! It is a game of strategy played face to face (not face to screen, boring!) that absorbs and fascinates from beginning to end.
Participants...
expand their perspectives explore and discover; are challenged; have interpersonal and culturally diverse relationships with fellow role playing participants. Along the way, they unlock previous unknown capacities about themselves and the role they play in life and work. It incorporates learning that addresses essential skills for the future, such as: critical thinking, leadership, creativity, diversity, clarity, collaboration and being solution driven in a technological world.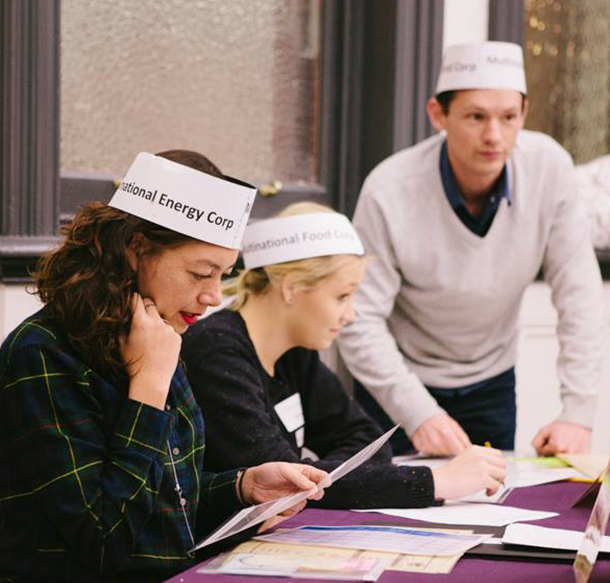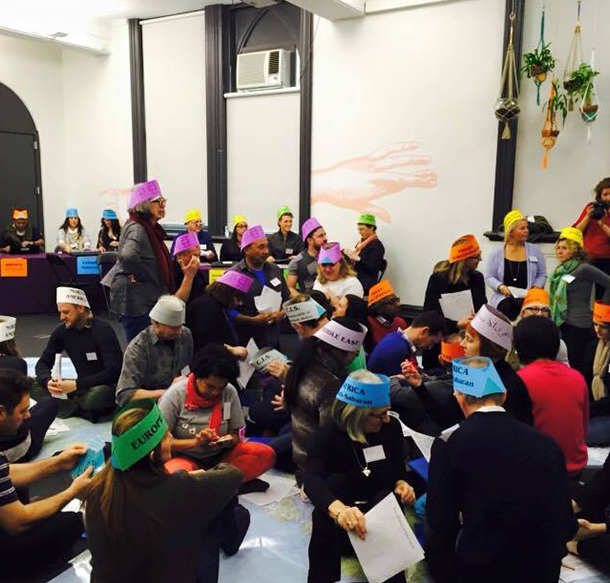 The simulation
is based on World Game (the brainchild of Buckminster Fuller, once described as the Leonardo Da Vinci of the 21st Century). We R One World adapts the original concept and adds contemporary meaning-making frameworks ...although you wouldn't know it, this is all about fun too! These frameworks have been gamified into the simulation to help participants see and be empowered to go beyond the confusion of global complexity to the patterns of simplicity on the other side. They hold the predictive power of experience and robust theory.
It's a transformational learning experience event -

and a lot of fun too!